Bosch GHG 180 Professional
Heat Gun
GHG 180 Professional
Keep up the heat without missing a beat!
3165140939287
Delivery on 15, March 2021
Description
GHG 180 Professional
Heat Gun
The sander for extremely high surface quality | 300 W, sanding sheet dimension: 115×280 mm
Additional data
Rated input power*
0 W
Weight
0.75 kg
Tool dimensions (width)
86 mm
Tool dimensions (length)
238 mm
Tool dimensions (height)
244 mm
Specifications, use
Working temperature*
60 – 550 °C
Airflow*
350 – 550 l/min
Heat-up time
1 min
Continuously variable temperature control
–
Cold stage, 50°C
–
Control, airflow
3-stage
* Highlighted Data
The A-rated noise level of the power tool is typically as follows: Sound pressure level dB(A); Sound power level dB(A). Uncertainty K= dB.
Advantages
Keep up the heat without missing a beat!
Powerful: 1800 W with a 3-stage temperature selection at 60/350/550C for various applications
Durable: Tested at Bosch standards to ensure 500 hrs of continuous operation
100% safe: Overheat protection to ensure user is safe in case of airflow blockage
Functions




What's Included in this Package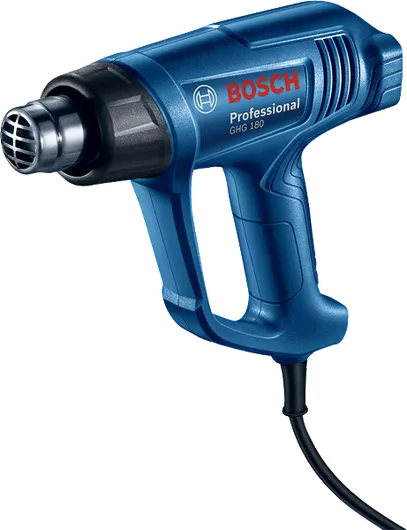 Order number: 
0 601 94D 020